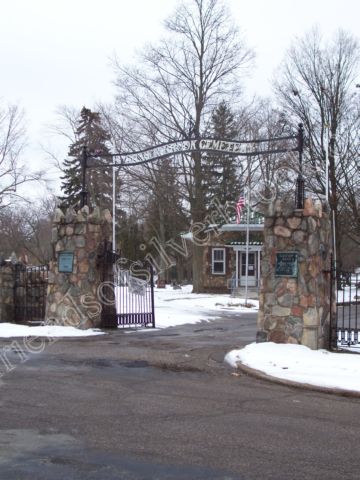 The entrance to Silverbrook Cemetery is located at the corner of Main and Cherry Streets in the city of Niles, Michigan.
Map of the Cemetery
Click here for your own map of Silverbrook Cemetery.

A 36"x44" printed map is available for purchase in the Cemetery Office for $10.
Cemetery Office
1400 East Main Street
Hours: 8:00 a.m. to 4:00 p.m.
Report Vandalism when you see it!
Cemetery Listing
Silverbrook Cemetery Graves Listing is available on Amazon.com!  This two volume set is a printout of the Grave Search database on this website.  It contains over 20,000 listings sorted alphabetically by last name, including Location, Date of Birth, Date of Death and Date of Interment, and Funeral Home.
The mission of the Friends of Silverbrook Cemetery, working with the City Government, is to promote and restore Silverbrook Cemetery to its once proud heritage.

Monthly Meetings

The Friends of Silverbrook Cemetery meet the third Thursday each month at 7 p.m. at the Niles Law Enforcement Complex, located at Main St and Silverbrook Ave.

In addition to discussing progress made with our restoration and education projects, we feature a Guest Speaker. Past speakers have given talks about the history of Niles, gravestone restoration, and biographies of leading citizens. Many of our members also have interests in genealogy and local history. Members, nonmembers, and guests are always welcome to attend at no cost.
October 17, 2014
The Friends of Silverbrook Cemetery will meet on Thursday, November 20 at 7 p.m. at the Law Enforcement Complex, 1600 Silverbrook Ave. in Niles.
As always, the public is welcome and there is no fee to attend.
We will not meet in December due to the holidays. We will have our next meeting Thursday January 15, 2015--weather permitting!
January 15, 2014
Friends of Silverbrook Cemetery
2013 Annual Report
It is with great pride and your support that the Friends of Silverbrook with the City of Niles continue to make improvements to honor the Family and Friends who are buried within our Historic Cemetery.
Bob Cooley, Berrien County Genealogical Society, and the Friends worked on headstone restorations in the older sections of the cemetery on weekdays during the summer. Two scheduled works sessions were held with four volunteers.
SPECIAL ACKNOWLEDGEMENTS:
Martin's Super Market and Pepsico provided us with a $300.00 grant to honor veterans buried in Silverbrook Cemetery and we purchased fifty veteran flag holders. The Friends purchase two sets of Service Flags, two POW flags, and two Medal of Honor flags annually.
A donation of a truck load of brown premium mulch from Dan Kaiser of Kaiser Landscaping in Stevensville was delivered to Silverbrook Cemetery before Memorial Day. The mulch was used to landscape the Veteran's Memorial, Silverbrook Abbey, office building, signage, and the tree landscape projects maintained by the Friends.
HIGHLIGHTS OF 2013:
The Friendsofsilverbrook.org website is maintained by web designer Bob Nightingale and Editors, Mary Ellen Drolet, Debby Barkman and Vicki Caison. In 2013, 9,725 unique visitors visited the Friends website. The Obituary Search now has 5,059 listings with 733 new obits added in 2013. Of our 20,793 grave search listings online, 12,332 are linked to photographs and, 5,377 are link to obituaries. Our 50 public photo albums on PicasaWeb now have 11,861 searchable prints.
Edging around the flat markers was completed in several sections in the Garden of Memory this fall. We held 3 work sessions to inventory and photograph headstones to be edited and added to the website search listings.
Carol Bainbridge, Director of Fort St. Joseph Museum, gave a PowerPoint presentation on the history of the Chapin Family House, formerly City Hall, which is now being converted to a house museum. Friend's members, Mike and Sue Armstrong portrayed Henry and Ruby Chapin, to greeting visitors at the front door of the Chapin House at several museum events.
CEMETERY PROJECTS:
The Friends purchased six gallons of high gloss black paint to apply the second coat of paint on the old chain link fencing behind Thomas Stadium, along Silverbrook Avenue, around to the corner of East Main Street. Two work sessions were scheduled with Cemetery Superintendent, Neal Mikel and Morgan Frend to complete this project.
Medal of Honor Winner, Corporal Joseph Nolan's flagpole was damaged during a wind storm in November. The downed flag pole was removed and the Friends purchased a 20 Ft Aluminum flag pole to be installed in the spring of 2014.
We have seen a decline of theft in the cemetery this year. A donation of four security cameras from concerned citizens and Friends members were mounted throughout the cemetery over the summer. The City of Niles purchased six surveillance signs to be mounted at various locations when weather permits.
ANNUAL MEMBERSHIP:
The Annual Membership Drive is held in April of each year. The membership roster currently has 169 members.
Your Membership donations funded Projects in 2013: *Purchase of two sets of Service Flags, two POW flags, and two Medal of Honor flags. *Replacement purchase of 20 FT Aluminum Flagpole for Medal of Honor Winner Corporal Nolan. *Purchase of cemetery cleaning and restoration supplies. *Purchase of 6 gallons of high gloss paint and supplies. *Purchase of 48 inch Ultra Flect driveway marker rods for road identification in snow. *Printing of membership letters, thank you note cards, cemetery maps and postage. *Annual Fee for website and P.O. Box.
Thank you for your generous donations and continued support in this endeavor.
Sincerely,
Candace Skalla, President