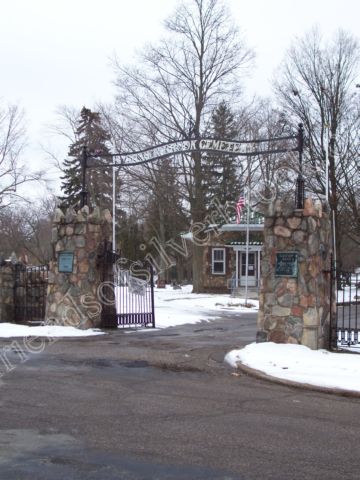 The entrance to Silverbrook Cemetery is located at the corner of Main and Cherry Streets in the city of Niles, Michigan.
Obituaries
We now have over 5,100 obituaries collected about the interred here at Silverbrook Cemetery.
If you have an obituary that you would like to see posted here, please email it to our editor at This email address is being protected from spambots. You need JavaScript enabled to view it. .
Thank you!
---
September 19, 2012
William Batson
1806-Jan. 8, 1892

Niles Daily Sun, Friday, January 8, 1892, page 4, col. 3, microfilm Niles District Library


An Old County Resident Gone
William Batson, one of the oldest residents of this county, and one of our oldest citizens as well, died at his home in Buchanan this morning.
Mr. Batson was a native of Ohio, but came to this county and settled near Niles in 1832. He resided on his farm southwest of this city, and a few years ago moved to Buchanan.  He was 86 years old. He lost his first wife several years ago, and afterwards married his deceased wife's sister, who survives him.  He leaves four children, three sons, William of Niles township, John A., of Reynolds, Indiana, A.B., of Arlington, Neb., and Mrs. Lydia Younker, of Rockford, Iowa.  All of the sons were with their father when he died, but the daughter was detained at home by sickness.
Mr. Batson will be buried in Silver Brook Cemetery in this city to-morrow afternoon, under the auspices of the Masonic Fraternity.

Niles Mirror, Wednesday, January 14, 1892, page 5, col. 2, microfilm Niles District Library


Wm. Batson, of Buchanan, died of paralysis at 3 a.m. Friday morning, aged 86 years. He came here in 1832 and bought a farm of Geo. [illegible] about four miles southwest of Niles, where he resided until about 1881, when he retired and moved to Buchanan, where he died.  He leaves a wife, three sons and one daughter, all of whom are married.  He has been a member of the Masonic fraternity about 30 years, and is a member of St. Joseph Valley Chapter No. 2. He was buried Saturday afternoon in Silver Brook cemetery, at 3 o'clock, by the Buchanan lodge, who were joined by the fraternity here.  Mr. Batson was well known as one of the best of men, among the old pioneers. He was one to welcome and assist all new comers and made himself useful to all. Peace to his ashes.

Niles Mirror, Wednesday, January 14, 1892, page 5, col. 1, microfilm Niles District Library

Andrew B. Batson, of Arlington, Neb., was called here to attend the funeral of his father. Also, John A. Batson, of Reynolds,Ind., was here on the same mission.


*NOTE: 1st wife Lorinda buried at Silverbrook; 2nd wife Sarah, 1820-1900, wife of Wm., our mother, buried at Oak Ridge. Per death record Sarah Robinson, 1818-9 Sept. 1902.
September 19, 2012
Charles Brunk
Sept. 22, 1843-Dec. 16, 1908

Niles Daily Star, Thursday, December 17, 1908, page 1, col. 2, microfilm Niles District Library


CHAS. BRUNK IS DROWNED
SAD FATE BEFALLS AGED DRAYMAN LAST NIGHT
CRIES FOR HELP ARE HEARD
But None Went to Assistance--
Plunged About in the River for Hours.
About 6:45 o'clock this morning, a gang of Big Four men discovered the body of Charles Brunk, the drayman, lying face downward in about eight inches of water in the river just north of Cass street and opposite the section house. The attention of the men was first attracted by Brunk's horse, which was standing in the river, a few yards from shore and upon closer investigation, the body of Brunk was seen lying in the rear of the wagon, one of his hands clinging to a wheel in the death grip.
The section men notified Marshal Francis, who hurried to the scene. Upon ascertaining that Brunk was dead, the officer sent for Coroner Platt, and then summoned a veterinary surgeon to treat the poor shivering horse, which had remained in the icy water and withstood the chilling rain during the night.
Upon his arrival, Coroner Platt impanneled a jury. The remains were then viewed by that body, after which an adjournment was taken until tomorrow morning at 9 o'clock, at which time the  inquest will be held at the office of Attorney W.N. Burns. The body of the dead man was taken to Skalla's undertaking establishment.
WHEN BRUNK WAS LAST SEEN
Brunk was last seen about 6 o'clock last evening.   Marshal Francis says he saw him at that hour heading down Front street with a load of refuse. Brunk evidently drove north to Sycamore street and thence to the river, intending to dump the load into the stream. The night was very dark, and it is thought that after driving out into the river, as he frequently did, he became confused and headed down stream in his efforts to get out. In any event, he drove the distance of a couple of blocks down the river, but it is thought he moved only a short distance at a time, as he was heard shouting (evidently for help) at different times from 7 til 11 last night.
At 7 o'clock, Wm. Weiser was crossing the Main street bridge when he heard and recognized Brunk's voice, but he did not know he was in the river, and not being able to distinguish what he said, didn't know but what he was shouting at his horse.
At 8 o'clock, Abner Kugler's son heard someone crying for help down toward the river. The boy went home and reported what he had heard and one of the inmates of the house went out and listened, but could hear nothing.
At 11 o'clock, Alonzo Platt, watchman at the Lincoln Avenue crossing of the Michigan Central, heard a man shouting from the direction of the river, but did not realise that it was the agonized cry of a man who was freezing to death from exposure to the elements.
Having evidently given up hope of rescue as the night advanced, Brunk managed to unhitch his horse from the wagon, evidently with the intention of leading the animal to shore, but being benumbed and exhausted, he fell upon his face and drowned in a few inches of water.
Fraternally, the deceased was identified with the Knight of the Modern Maccabees, and carried insurance. He is survived by a widow and six children, the latter being Mrs. Wm. Nichols of Chicago Heights; Albert Brunk of Marquette, Kas.; Mrs. Theron Long of Gary, Ind.; Miss Marie Brunk of South Bend; Frank Brunk of Au Sable, this state; and Carl Brunk of Niles.
At this writing, the funeral arrangements have not been made.
September 19, 2012
Frank Brunk
March 7, 1879-Aug. 23, 1938

Niles Daily Star, Tuesday, August 23, 1938 page 1, col. 1, microfilm Niles District Library


STRICKEN AT WORK BY HEART ATTACK
Frank Brunk, 61, Drops Dead This Morning in Cigar Store
Stricken with a heart attack while at work int he DeLuxe cigar store, 122 North Front street, Frank Brunk, 61, died suddenly at 10:30 o'clock this morning.
Born in Niles Mr. Brunk lived in Detroit and Toledo for a number of years.  He returned to Niles five years ago and at the time of his death was rooming at the Edward Smith home, 316 West Main street.
He is survived by two half-brothers, Carl Brunk, Niles, and Alfred Brunk Marquette, Kan.; also two half-sisters, Mrs. John H. Hawks, Miami, Fla., and Mrs. T.W. Long, Booneville, Mo.
The body was taken to the Rutherford funeral home where friends may call. Funeral services will be announced later.

Niles Daily Star, Wednesday, August 24, 1938 page 2, col. 3, microfilm Niles District Library

BRUNK SERVICES

Funeral services for Frank Brunk, 61, who dropped dead from a heart atack while at work in the DeLuxe Cigar store Tuesday, will be held at 10 o'clock Thursday morning. The Rev. A.R. Kuehn will conduct the services in the Rutherford funeral home. Burial will be in Silverbrook cemetery.

Niles Daily Star, Friday, August 26, 1939, page 2, col. 2, microfilm Niles District Library

BRUNK RITES HELD

Lute Ranft, William Edwards, Dennis Cook and Walter Martin served as pallbearers Thursday for the funeral services of Frank Brunk.  The rites were conducted in the Rutherford funeral home by the Rev. A.R. Kuehn.  Burial was in Silverbrook cemetery. Mr. and Mrs. Clifford Kirk, Michigan City, were in Niles for the services.


September 19, 2012
Mary Brunk
Oct. 31, 1845-April 30, 1930

Niles Daily Star, Wednesday, April 30, 1930, page 4, col. 2, microfilm Niles District Library


DEATH MRS. CHAS. BRUNK
Carl Brunk received a message at noon today announcing the death of his mother, Mrs. Mary Brunk, widow of Charles Brunk, at the home of her daughter, Mrs. C.W. Long in Boone City, Oowa. The body will be brought to Niles tomorrow and taken to the home of Mr. Brunk in West Main street. While the funeral plans are not completed the services will probably be held Friday afternoon in St. John's Evangelical church. Mrs. Brunk was 84 years of age. She had made her home with Mr. and Mrs. Long for 13 years and for 10 years of that time they have lived in Boone City. Mr. Brunk received a message yesterday that his mother had been stricken with paralysis. Mrs. Brunk is survived by four children who are Mrs. Long of Boone City, Carl Brunk of Niles, Miss Marie Brunk of Detroit and Alfred Brunk of Marquette, Kansas. Miss Brunk is expected in Niles tonight.
September 19, 2012
Anna Bannister Brahaney
Feb. 3, 1851-Nov. 26, 1932

Niles Daily Star, Saturday, November 26, 1932, page 1, col. 3, microfilm Niles District Library


MRS. ANNA BRAHANEY, ILL FOR MONTHS, DIES
Widow of Former Niles Merchant Passes Away at 13th St. Home
Mrs. Anna Bannister Brahaney, 81, widow of James Brahaney, died athis morning at 5 o'clock in her home, 27 N. Thirteenth street. She had been in ill health for several years. On Friday, Nov. 18 she lapsed into unconsciousness and was conscious again only for a brief time. Mrs. Brahaney had lived in Niles for more than 30 years.
Mrs. Brahaney was born in Collingwood, Ontario province, Canada, on Feb. 3, 1851. She was married to Mr. Brahaney on Jan. 1, 1865. The early years of their married life were spent in northern Michigan where Mr. Brahaney was in charge of large timber interests.  They came to Niles from Marquette in 1899. They celebrated their golden wedding anniversary in Niles and each succeeding anniversary until their last. Mr. Brahaney had engaged in busines in Niles but retired several years before his death in 1926.  Mrs. Brahaney was the last of a family of 12 children.
Surviving Mrs. Brahaney are two daughters, Mrs. C.D. Hildebrand, wife of a St. Joseph county commissioner and a resident of South Bend and Mrs. John Perkins of Niles. Mrs. Brahaney had five grandchildren who are Mrs. Marjorie Cavanaugh Sparks, wife of Charles A. Sparks of Goodling, Kans., Furmage Cavanaugh of Coleman, Texas, Stuart B. Brahaney of Miami, Fla., and John and Christine Perkins of Niles.
Mrs. Brahaney was a member of the Presbyterian church. The pastor of that church, the Rev. G.W. Simon, will conduct the funeral services in the home on Monday afternoon at 2 o'clock. Burial will be made in the family lot in Silverbrook cemetery. Mrs. Brahaney had spent the years since she came to Niles as a resident of the neighborhood in which she died and was highly respected and esteemed.