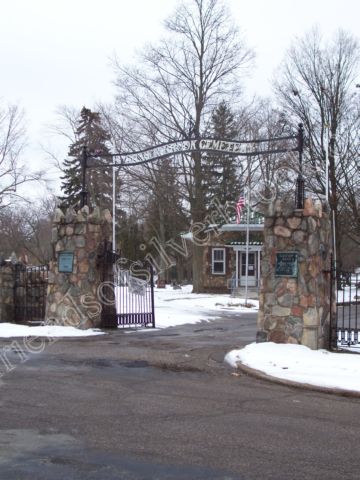 The entrance to Silverbrook Cemetery is located at the corner of Main and Cherry Streets in the city of Niles, Michigan.
Obituaries
We now have over 5,100 obituaries collected about the interred here at Silverbrook Cemetery.
If you have an obituary that you would like to see posted here, please email it to our editor at This email address is being protected from spambots. You need JavaScript enabled to view it. .
Thank you!
---
April 11, 2012
Ernestine Wieser
Dec. 1849-Nov. 21, 1929

Niles Daily Star, Thursday, November 21, 1929, page 1, col.1, microfilm Niles District Library


MRS. JACOB WIESER, 81, IS TAKEN BY DEATH
Widow of Pioneer Wagon Maker of Niles Passes Away This Morning

Mrs. Ernestine Wieser, 81, 212 Sycamore sttreet, died this morning about 6 o'clock after two weeks of illness. Mrs. Wieser, who was the widow of Jacob Wieser, was a highly respected resident of Niles, and had lived in Niles for about 70 years.  Her husband, for many years conducted a wagon making shop on North Second street.
Born in Saxony, she lived there until she was 12 years of age when she was brought to America and to Niles and she had since resided here. For at least 45 years Mrs. Wieser had lived in the 1100 block on North Fifth street. She continued to live there after the death of Mr. Wieser 17 years ago or until about seven years ago when she moved to 212 Sycamore street. The immediate cause of death was Bright's disease.
Mrs. Wieser was the last of a family of six children, Among her sisters and brothers were Henry Reum and Mrs. Charles Radewald, Sr., of Niles and Mrs. Caroline Enders of Galien.  Mr. and Mrs. Wieser had no children but were devoted to their numerous nieces and nephews.
The deceased was one of the oldest members of Niles Hive, No. 38, Lady Maccabees. She was a member of the Presbyterian church and Sunday school.
The body is at the Troost and Augustine chapel and may be viewed there by friends.
The funeral services will be held on Sunday afternoon at 2 o'clock in the chapel. The Rev. G.W. Simon, pastor of the Presbyterian church and the Rev. G.W. Webbink, pastor of St. John's Evangelical church will conduct the services. Burial will be made in the family lot in Silver Brook cemetery.


April 11, 2012
Carl Willman
Oct. 22, 1867-Sept. 3, 1943

Niles Daily Star, Friday, September 3, 1943, page 2, col. 4, microfilm Niles District Library


CARL WILLMAN STRICKEN TODAY
Carl Willman, 75, a resident of Niles since 1903, died this morning at 2:40 in Pawating hospital after an illness of nine months. He lived with his daughter, Mrs. Frank Skalla, 333 North Lincoln avenue.
A native of Schonow, Germany, where he was born Oct. 22, 1867, he and the late Mrs. Willmann operated a meat market in Germany for 23 years before coming to this country.
After moving from Chicago to Niles, Willmann was employed 25 years in the George Forler market.
His only survivors are the daughter and a granddaughter, Elizabeth Skalla.
Friends may call in the Price and Kiger funeral home where the service will be conducted  Saturday afternoon at 2. The Rev. Theo Eisen, pastor of St. John's Evangelical and Reformed church, will officiate with burial in Silverbrook cemetery.
Note: It appears that the name is variably spelled Willman/Willmann as it is found both ways not only in this obituary but in other records.
April 10, 2012
Helena Christmann
July 27, 1874-April 4, 1947

Niles Daily Star, Saturday, April 5, 1947, page 2, col. 5, microfilm Niles District Library


Mrs. Helena Christmann, 109 South State street, died Friday at 1:15 p.m., at her home. She had been in failing health for some time.
She was born July 27, 1874 at Lisbon, N.D., and was married to Henry Christmann in 1897 at Milwaukee, Wis., The family came to Niles in 1919 and since has resided in this community. Her husband preceded her in death on May 22, 1945.
Survivors include five daughters, Mrs. William Zerr, Mrs. Irvin Roebeck, Mrs. Calvin Jones and Mrs. Chester Curtis, all of Niles, and Mrs. Gordon Willis, Hammond, Ind., two sons, Edward and Roy, both of Niles, and one stepson, Fred, of Fort Francis Warren, Wyo., nine grandchildren and three great grandchildren. Also surviving are two sisters, Mrs. Sue [illegible] . .
Funeral services will be held Monday, 2 p.m., at the Evangelical United Brethren church with Rev. G.A. Steeby, officiating. . [illegible] Burial will be in Silverbrook cemetery.
April 10, 2012
Morgan Jay Clendenin
Sept. 2, 2004-Nov. 18, 2004

Niles Daily Star, Friday, November 19, 2004, page 2, col. 3, microfilm Niles District Library


Morgan Jay Clendenin, 11-week-old son of Jason and Trisha (Veach) Clendenin of Niles, died on Thursday, Nov. 18, 2004, at Memorial Hospital, South Bend, of natural causes. Arrangements are pending and being completed by Halbritter Funeral Home, Niles.
April 10, 2012
Mae Gephart
Sept. 8, 1878*-Sept. 4, 1956

Niles Daily Star, Wednesday, September 5, 1956, page 2, col. 4, microfilm Niles District Library


Miss Mae Gephart, 82, former Niles resident, died Tuesday night in a Los Angeles, Calif., hospital. A retired school teacher of the Los Angeles public schools, Miss Gephart was born in Niles and lived here as a young woman. She was a member of Trinity Episcopal Church here.
The remains will be cremated and the ashes returned to Niles for burial in Silverbrook Cemetery with the Rev. John G. Carlton, rector of Trinity Church conducting committal rites.
Her only survivors are a nephew and three nieces, Hardy Langston, of Niles, and Mrs. Myron Mork of [illegible] . .drews of Jackson,Mich., and Mrs. Leo Price, of Marne Mich., all formerly of Niles.
Note: Date of birth from California Deaths is not consistent with age stated in Obituary