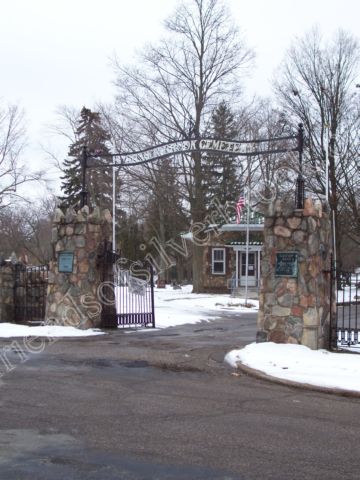 The entrance to Silverbrook Cemetery is located at the corner of Main and Cherry Streets in the city of Niles, Michigan.
Obituaries
We now have over 5,100 obituaries collected about the interred here at Silverbrook Cemetery.
If you have an obituary that you would like to see posted here, please email it to our editor at This email address is being protected from spambots. You need JavaScript enabled to view it. .
Thank you!
---
April 9, 2012
Eva M. Fitzgerald
Sept. 18, 1912-Jan. 18, 1980

Niles Daily Star, Saturday, Jan. 19, 1980, page 2, col. 4, microfilm Niles District Library


Eva M. Fitzgerald, 67, of 625 Chicago Rd., Niles, died at 10:45 a.m. Friday in Pawating hospital following a long illness.
She was born Sept. 18, 1912 in Brohman, Mich. and had spent most of her life in the Niles area. She was a homemaker.
Survivors include her mother, Mrs. Anna Robbins of Niles; two sons, Cecil of Nappanee and Edward of Fort Wayne; two brothers, Floyd and Frank Robbins of Niles; four sisters, Mrs. Helen Kline of Niles, Mrs. Isabell Dittmar of Niles, Mrs. Arnetta Bjorkley of Grand Rapids, Minn., and Mrs. Mable Robbins of Joliet, Ill.; and eight grandchildren.
Funeral services will be held at 1:30 p.m. Monday at the Pifer-Smith Funeral Home. Officiating will be Elder Ola D. Robinson of the Niles Westside Seventh-day Adventist Church.
Burial will be in Silverbrook Cemetery.
Friends may call at the Pifer-Smith Funeral Home after 2 p.m. Sunday.
April 9, 2012
Frank Fitzgerald
abt. 1850-Jan. 12, 1868

Niles Weekly Times, Thursday, January 16, 1868, page 3, col. 4, microfilm Niles District Library

In this city on the 12th inst, of consumption, FRANK, son  of Lucy and the late General Thomas Fitzgerald, aged 18 years.


April 9, 2012
Frederick T. Fitzgerald
July 4, 1855-Oct. 6, 1865

Niles Republican, Thursday, October 14, 1865, page 3, col. 1, microfilm Niles District Library


DIED
October 6th, FREDERICK T., eldest son of JEROME B. and ISABEL FITZGERALD, age 10 years, 3 months and 2 days.
April 9, 2012
Isabel Fitzgerald
March 28, 1826-Oct. 26, 1898

Niles Daily Star, Monday, October 26, 1896, page 3, col. 3, microfilm Niles District Library


Mrs. Isabel Fitzgerald, widow of the late Jerome B. Fitzgerald, died at her residence at 1 o'clock this morning. The funeral will be from Trinity Episcopal church at 11 o'clock Wednesday forenoon. Interment at Silver Brook Cemetery. Obituary in these columns tomorrow.

Niles Daily Star, Tuesday, October 27, 1896, page 2, col. 4, microfilm Niles District Library


Obituary
Once more the summons has gone forth! Once more a soul has been called by tits Maker, out of the church militant, unto Himself.  Once more a home has been shorn of that which made it a home! Once more a mother has been taken away, and that dear reality is transformed into a sacred memory!
The Lord Jesus sanctioned, and sanctified the love of all humanity, for mother.  In the early morning of Monday, October 26, after a brief illness, Mrs. Isabel Fitzgerald passed peacefully away  from this life, into the spiritual. 'Tis hard indeed to realize that she who was so full of life, is now stilled in what we call death. That her energetic activity, in all good works, for which she was so justly noted, is over, here.  Those willing hands, so eager to do for others, are folded and resting.  Mrs. Fitzgerald was born in Pompey, Onondaga county, New York, March 28, 1826, and married to Jerome B. Fitzgerald June 5, 1848.
Mrs, Fitzgerald has been well known in Niles, as the wife and widow of the late Jerome B. Fitzgerald.  When first married he took his bride to his home in St. Joseph, Michigan, from whence they removed to Niles, and after an interim of months only, to New York city, where they resided for several years.  A longing for western life then led them to Granby in southwestern Missouri, and in a few years more, the disastrous results of the civil war, again drove them north, to find a temporary refuge in Muscatine, Iowa.  But, true to nature's first pleadings, Niles once more received them; and here they journeyed down the pathway of life, together meeting sorrows as time mostly brings them, culminating in Mr. Fitzgerald's sickness and death; and here together now, they sleep with their own.  One loving daughter and three sons were with their mother, ministering to, and comforting her last hour.  But not these alone will mourn for her, others there are to whom she has been almost a mother. Her church will sadly miss her constant, ready help, her hopeful nature, her faithful attendance. Her guild, from whose work she was rarely absent; the friends and neighbors of nearly half a life time.
There was a beautiful element of self sacrifice running all through Mrs. Fitzgerald's life, even to its very close. While her husband lived, she lived for him first, and made his home, also a home for his friends.  After he was taken away from her, bravely taking up her burden of heart loneliness, she strove to live for her children, her church, her neighbors and friends. As one of these dearest friends tearfully said, "she was so fond of serving others that you could never do anything for her without she, in some way, turned it into a benefit for yourself."
Taken in the midst of her usefullness, and in the fullness of her capacity, it will be long ere her place is filled, or her aid supplied.  Truly it may be said, that hers was a well spent life, and full to the brim of kindly words and deeds. May the welcome words greet her ears--"Well done thou faithful one, enter thou into the joy of thy Lord."  F.L.
April 9, 2012
Jerome B. Fitzgerald
1822-June 5, 1878

Niles Mirror, Wednesday, June 12, 1878, page 4, col. 4, microfilm Niles District Library


Death of Hon. J.B. Fitzgerald
Died at his home in Niles, Mich., on the morning of June 5th, 1878, Jerome B. Fitzgerald, in the 56th year of his age.
On Wednesday last, in  the silence of the morning and in the sheen of the newly risen sun, sad news awaited the people of Niles. As they repaired to their wonted avocations and places of business, with almost electric celerity and in utterances unused to a greater sorrow, did the intelligence pass from lip to lip and from home to home that Jerome B. Fitzgerald had ended his earthly career and labor. Death, the great harvester, had gathered another sheaf--few indeed of all his reaping more loved and honored --into his never full garner.  With spells of illness lasting through many days and weeks, yet hardly one of all his many friends and acquaintances suspected so suddenly the approach of the shadow and the pall.--Blessed with a strong constitution, and endowed with a courage and endurance that seemed never, to forsake him, even in his severest hours of illness, all hoped he would come off victor of his physical maladies, and be spared to the people who through long years had loved and trusted and with unsparing hand had conferred . . . [illegible] . . .from an unseen quiver--the oak and the wayside alder bend and break alike before the omnipotence of the "appointed" time.
So well, so widely known, so long a citizen in our midst, always stalwart and often heroic in all the functions and duties of a varied citizenship, loving his constituency and in turn beloved by them, it seems most meet that the universal sorrow evoked by his demise should find expression in a brief recall of the qualities and virtues that distinguished and adorned his life.
As one, fortunate in a long and somewhat intimate acquaintance with him, recreant to friendship's righteous claim, and dastard to every conviction and sentiment of my soul, did I not bring willing testimonial to his many excellencies and virtues, mental, moral and social. As a boon companion and trusted friend, I never met his superior. Caring little for society's cold conventionalisms, as oft as was the meeting,  He gave the salutation and the hand shake with the fervor of an old-time friend.  His friendship of the trusting and trusted sort, lasted on and through all the changes of his residence, buoyant and triumphant over all the phases that attend upon the earnest and the busy man's life.  This quality of pure, sincere, disinterested friendship gave him a ready and a welcome admission to organizations of a social character and to institutions of charitable aim and purpose, and from the purity of his friendship and the geniality of his disposition, it was not long before were assigned to him in the Lodge room and elsewhere, positions of high honor and responsibility among which were those of Master, High Priest and Eminent Commander.
Nor was his eminence wholly of a social nature. In literary and professional culture he achieved a reputation high above the common range.  As student of Middletown College and as law student in the office of Green & Dana, both teacher and Professor testified to his industry and fidelity, and predicted for him an honorable and successful future. Nor were they mistaken. early was his name found in the roll call of the Senate of his State, and scarcely had he entered actively upon the labors of his profession before he was called to the office of Prosecuting Attorney of his county, and subsequently he held various offices, often against his wish, bestowed by the partiality of his more immediate neighbors and friends, such as Alderman, City Recorder and City Attorney, and in all positions form Senator to Alderman he was found equal to every duty and responsibility to their utmost verge.
And now the bar of which he was an ornament, and the bench of which he was, by the thorough preparation of his cases, and by his courteous and urbane demeanor, always a favorite, will miss and deeply lament his absence from their midst.  The county which he loved and served so faithfully will miss him. The city, which oft and wisely looked to him for counsel, will feel at a loss upon whom with equal confidence to place the mantle of their departed counsellor.  Kind neighbors and friends, of whom no resident of our city numbered more, will miss his manly form and cherish long the memory of his genial, hospitable and eminently gentlemanly friendships. But before and above all will he be missed in the hallowed sanctuary of his home. There he was the longest and best known--there a guardian angel, uncovered and unabashed, lighted for many years the touch and kindled the fires on home's holy altars.  Yes, it was just 30 years ago to the beautiful and cloudless morning which veiled forever his vision, when, Isabel Sweet, his well chosen, loving and devoted partner, now so sadly bereft, began that divine attunement of soul to soul--that radiation of the pure and higher life--that largess and endowment of hope, faith and charity--the very temple and enshrinement of human desire, and the enthronement of all that enobles human nature. Dearest home ones who remain, it is meet that you should love on and ever, though the cherished form of our dearly loved friend shall pass out of home's portals--though the vase  be broken, the unperished fragrance of his virtues and deeds shall forever remain a legacy of unwasting worth to wife, mother, son and daughter. Dear, stricken, sorrowing ones, esteem not death as your despoiler, but rather "As a fort where all may refuge find, The end of Labor--entry into rest."