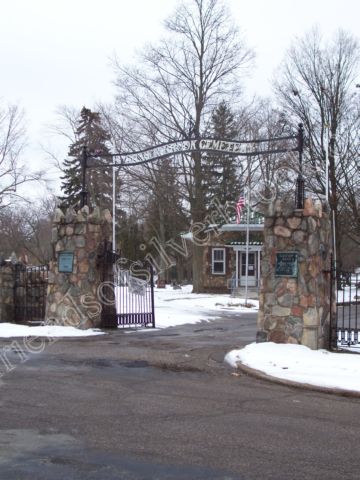 The entrance to Silverbrook Cemetery is located at the corner of Main and Cherry Streets in the city of Niles, Michigan.
Obituaries
We now have over 5,100 obituaries collected about the interred here at Silverbrook Cemetery.
If you have an obituary that you would like to see posted here, please email it to our editor at This email address is being protected from spambots. You need JavaScript enabled to view it. .
Thank you!
---
February 24, 2012
Mary Witt Tyler
1906-June 5, 1946
Michael Tyler
July 13, 1934-June 5, 1946

Niles Daily Star, Thursday, June 6, 1946, page 1, col. 8, cont. page 2, col. 4, microfilm Niles District Library


2 NILESITES DIE IN FIRE
Jerry Tyler, Industrialist, Critically Injured in Blaze
Prominent Niles Family
Victim of Flames Which
Swept Chicago Hostelry
Two Niles persons are dead and a third is in critical condition in a Chicago hospital as a result of the LaSalle hotel fire early Wednesday morning which took a toll of 58 lives with another 200 injured.
The dead are:
Mrs. Mary Tyler, 40, wife of Jerry Tyler, president of the Tyler Fixture Corporation of Niles.
Michael Tyler, 11, their son.
Still unconscious in St. Luke's hospital in Chicago is Jerry Tyler, whose condition was still grave today but whose chances for recovery . .[illegible] physicians as being "50-50."
Feared for His Life
He was unconscious when found in St. Luke's hospital late Wednesday afternoon and was not expected to live through the night but this morning he was reported breathing easier under an oxygen tent although he was still in a grave condition.
Word was received by company officials at 2 p.m. today that the condition of Tyler has improved somewhat during the day and that chances of his recovery are "improving momentarily."
Although still unconscious and under an oxygen tent, his pulse was reported to be stronger and temperatures have lowered somewhat, according to the report from St. Luke's hospital in Chicago, where he is hospitalized.
His father, Leon L. Tyler, of Niles, together with P.A. Hadsell, a close family friend, and Joseph W. Krall and George H. Mayhew, business associates, went to Chicago Wednesday to help with the search and possible identifications.
A brother, Robert Tyler, a company vice-president, was located Wednesday afternoon in Spokane, Wash., where he was on business and, together with his wife, arrived in Chicago by plane this morning.
In Chicago on Business
The Tylers had gone to Chicago late Monday afternoon on business and had intended to return to Niles on Tuesday night by apparently changed their plans stay there until Wednesday morning.
No details were available today as to what part of the hotel they had occupied nor the circumstances which led to the tragic death of Mrs. Tyler and their son.
Suffocation Said Cause
It was learned, however, that both Mrs. Tyler and Michael had died from suffocation and had not been burned.
Although Jerry Tyler also escaped with only minor burns, his condition was aggravated by inhalation of smoke developing rapidly into pneumonia.
Concern for their safety was aroused here shortly after noon Wednesday upon failure to receive any word from them and Joseph W. Krall, a vice-president of the  company who was in the vicinity of Chicago, went into the city to help in a search of hospitals and morgues.
The body of their son, Michael, was identified in one of the morgues and several hours later, Jerry Tyler was found in St. Luke's hospital unconscious and in a critical condition.
Although Mrs. Tyler had been missing since the fire occurred, no definite word concerning her was available until Wednesday night when she was identified by Hadsell.
Had Wintered in Texas
The Tylers had returned to Niles only 10 days ago after spending the winter at Waxahachie, Texas, where the Tyler company has a plant, in addition to the two in Niles and another in Cobleskill, N.Y.
They had intended to stay this summer at their farm home west of Bertrand and the son, Michael, was to have gone shortly to Camp Tesebo, at Pentwater, Mich. for summer camping with several other Niles youths.
The family has been prominently identified with business, social and civic activities in the community since the company moved to Niles from Muskegon Heights in 1932.
Born in Niles July 13, 1934, Michael was their only child and attended school at the Dutch Corners rural school near the family home. During the past year he has been in school in Waxahachie.
Mrs. Tyler was the daughter of Vernon and Rosa Witt, who formerly lived at Bowling Green, Ky. She was married to Jerry Tyler on Feb. 11, 1926.
Active Socially
Since being in Niles she has been active in local Republican circles, have been a president of the Niles Women's Republican club and was also a past president of the Ladies' Reading Club.
Besides her husband, Mrs. Tyler is survived by her mother, in Fort Lauderdale; a sister, Mrs. George English, Jr. of the same city; and a brother, Norman Witt, of Hempstead, Long Island.
Mr. Tyler is the son of Mr. and Mrs. Leon L. Tyler, of Niles, who recently returned home from Florida after spending the winter there.
Served as Alderman
He served for nearly three years on the Niles city council from the second ward, beginning in 1934, resigned from the post in Dec. 1936, after having been reelected for a two-year term in April of that year.
Organizing the Tyler Sales Fixture company in 1927 with three employes, the company started a vigorous growth shortly after moving to Niles in 1932 and which has continued up to the present time.
Engaging in commercial refrigeration the company furnished a large amount of their products to the navy and more recently has expanded the line to include home and commercial "deep freeze" units.
In addition to the plant on North Front street, the company has a new modern factory and office building on Lake street, a plant in Waxahachie, where commercial refrigerators are produced, and a subsidiary in Cobleskill, the Harger Refrigerator Corporation, which was acquired in Nov. 1944.
Politically Prominent
Active in Republican politics, Mr. Tyler is director of Fourth district activities for the party and was a candidate for Michigan national committeeman in 1944 after the overthrow of Frank D. McKay in which he participated at the state convention of that year.
A member of the Niles draft board since it was first organized he is also a trustee of Alma college, a member of the state committee of the YMCA; and a former member of the aviation advisory committee working in cooperation with the State Planning Commission and the Michigan Board of Aeronautics, having been appointed to that body by Gov. Harry Kelly.
Both Mr. and Mrs. Tyler were members of the First Presbyterian church of Niles.
Tentative funeral arrangements have been made for Monday. Mrs. Tyler's mother and sister are expected to arrive in Niles Friday night and her brother will probably arrive here Saturday night or Sunday morning.
February 24, 2012
Minnie S. Tyler
Feb. 2, 1873-Oct. 8, 1966

Niles Daily Star, Monday, October 10, 1966, page 1, col 1-3, microfilm Niles District Library


Mrs. Minnie S. Tyler, Widow of Leon, Dies
Mrs. Minnie S. Tyler, 93, of 701 Topinabee Road, died at 3:30 p.m., Saturday at the Dor-A-Lin Nursing Home.
She was the widow of Dr. Leon L. Tyler, educator-industrialist, who died Jan. 18, 1965, at the age of 95. Survivors include a son, Robert L. Tyler Sr., president and general manager, Tyler Refrigeration Division of Clark Equipment Co.
Their other son, Jerry, founded the Tyler firm in 1927 as a store fixture manufacturer in the basement of their Muskegon Heights home.
Minnie Louisa Sturdevant was born Feb. 2, 1873, in Hillsdale county. She grew up on a farm her father had purchased with his army pay from the Civil War.
* * *
AFTER HER father died in 1891, she completed a three-year course in two years at Michigan State Teachers College, Ypsilanti. Her first job was a $50-a-month assignment in northern Michigan.
On Thanksgiving, 1896, she married the Minnesota-born Leon Tyler, who earned his law degree from the University of Michigan in 1900.
In 1901, they accepted posts at Quaker-founded Fairmount Academy; Leon as the $1,000-a-year principal and his wife as a $500-a-year teacher.
* * *
AFTER FOUR years at the Indiana school, they took a leave of absence to earn degrees at Earlham College in Indiana. After 1906 graduation, they returned for another year at Fairmont.
In 1907, the left the academy when Tyler was named superintendent of Three Rivers Schools. He went on to superintendency post at Traverse City and Muskegon Heights.
As a memorial to their eldest son, who died with his wife and 11-year-old son in a 1946 hotel fire, the Tylers presented Alma College with the Jerry Tyler Student Center in 1963.
At the time of Jerry's death he had been a trustee of the college where his father had been a professor from 1928 to 1936.
The 1964 Earlham College homecoming was highlighted by the dedication of a new social science center, Tyler Hall, named after Mr. and Mrs. Tyler.
* * *
SURVIVING IN addition to Robert Sr., are three grandsons and nine great grandchildren.
Friends may call after 7 p.m. today at the Pifer Funeral Home.
Funeral services will be held at 2 p.m. Tuesday a the First Presbyterian Church, with the Rev. John MacLachlan officiating. Burial will be in Silverbrook Cemetery.
Mrs. Tyler was a member of the Presbyterian Church, Daughters of American Revolution and Niles Historical Society.
February 24, 2012
Robert L. Tyler
June 27, 1929-March 18, 1975

Niles Daily Star, Tuesday, March 18, 1975, page 1, col 2-4, microfilm Niles District Library


Business, civic leader Tyler is dead at 45
Niles--Robert L. Tyler, Jr., 45, community leader and president of the Tyler Refrigeration Division of Clark Equipment Co., died at 12:20 a.m. today at Pawating Hospital. He had been ill for the last seven months.
Mr. Tyler was named general manager and president of the Tyler Division on Feb. 1, 1969, succeeding his father, Robert Tyler Sr., in that position. In May, 1972, he was elected a corporate vice-president of Clark.
Mr. Tyler had been associated with Tyler Refrigeration for 28 years. He started as a field sales representative and was administrative vice president when Tyler became a division of Clark. He was assistant general manager of the division a year before he succeeded his father in the top post.
Mr. Tyler was president of the Pickwick Club and a director of the First National Bank of Southwestern Michigan and the Niles Holiday Inn. He had been president of the Commercial Refrigerator Manufacturer's Assn. since 1967 and was active in the National Association of Food Equipment Manufacturers.
He was a member of the State YMCA executive committee from 1965 to 1968. He was chairman of the Greater Niles United Fund in 1958 and president of it in 1959.  He was a 1951 graduate of Dartmouth College. He had been named "Man of the year" by the Greater Niles Jaycees.
Mr. Tyler was a member of the Niles Elks Lodge, the Masonic Lodge, the Rotary club, the Niles Shrine Club and the Chamber of Commerce.
He was born June 27, 1929, at Muskegon Heights and had lived in Niles since 1950, coming here from Glen Ellyn, Ill. On April 7, 1951, at Glen Ellyn, he married the former Jean M. Fork, who survives.
Also surviving are three sons, Todd, Michael and Timothy, all of Niles; a daughter, Tracey, at home; his father, Robert L. Tyler Sr. of South Bend, and two brothers, Thomas and Taylor "Tim" Tyler, both of Niles.
Funeral services will be held at 1:30 p.m. Thursday at the First Presbyterian Church of which Mr. Tyler was a member. The Rev. John R. Wyngarden will officiate and burial will be in Silverbrook Cemetery. The Pifer Chapel of the Swem Smith Funeral Home is in charge of arrangements.  There will be no visitation.
Memorials may be made to the Berrien County Cancer Service, the American Cancer Society, the Pawating Hospital building fund or to a charity of the donor's choice.
February 24, 2012
Robert L. Tyler
Jan 20, 1908-Oct. 14, 1991

Niles Daily Star, Monday, October 14, 1991, page 2, col. 2, microfilm Niles District Library


Arrangements pending at Pifer-Smith Funeral Home for Robert L. Tyler, Sr., 83, of Niles, died at 5:40 a.m. today at Healthwin Hospital, South Bend, Ind., following a several month illness.
Mr. Tyler was the former President of Tyler Refrigeration Corp.

Niles Daily Star, Tuesday, October 15, 1991, page 1, col. 7-8, cont. page 2, col. 4-8, microfilm Niles District Library


Tyler dead at 83
By David Keim
staff writer
NILES--Niles has lost an important community leader, a man respected in business and admired for his service to his town.
Robert L. Tyler Sr., former president of Tyler Refrigeration Corp., died Monday at 5:40 a.m. He was 83.
Mrs. Tyler resided in New Smyrna Beach, Fla., and died at Healthwin Hospital in South Bend, Ind., after an illness of several months.
"If there's any one man that this town owes something to, it's Bob Tyler," said William Gallagher, who worked under Tyler for 10 years in the 1950s and 1960s before Tyler helped him start his own company.
"You wouldn't have a YMCA if there wasn't Bob Tyler," Gallagher said.
"His church (First Presbyterian) wouldn't have the chapel. .
"Bob was probably one of the most humane (men), but he was so inspiring." Gallagher continued. "He was a people person. He drove his company with people. He knew that for that company to grow he had to have loyal people. If you were loyal to him and the company, he was loyal to you."
Tyler took over as president in 1946 upon the sudden death of his brother, Jerry Tyler, the company's founder. He retired in 1969.
Tyler was instrumental in helping to raise the money that helped create the Niles-Buchanan YMCA, and served Niles with the Cancer Drive, United Fund and Jerry Tyler Foundation as well. He was a state director of the YMCA and director of the Niles-Buchanan YMCA.
"He was probably one of the greatest people I've known in my life." said Niles Mayor Larry Clymer, who worked in sales for Tyler Refrigeration for 30 years.
"He was very community-oriented and encouraged his people to do the same . .
"He was a stern taskmaster but he was one you could go in to and counsel with on personal problems as well as business problems," Clymer said, adding "He was exactly what we talk about today (as what a leader) should be."
Clymer  said "in one hand (he) carried a big stick in the other (he) carried his heart."
A World War II veteran, Tyler received the Legion of Merit and was a major in the U.S. Army. He was a member of LaRue Messenger American Legion Post No. 26 in Niles.
He was an athlete, and his love of sports and military background aided his business life, Gallagher said.
"When Bob had to assume the presidency of that company ..he began to put a team together. He became our coach you might say.
"He made district managers out of us. He put us through training . .You knew every part of the plant before you went out in the field."
Still, if a problem came up, his employees felt free to call at any time, on weekends, at night, Gallagher said.
"Bob had a weakness, if anything, (in that) in management he was too kind to his people," he added.
Roger Barr, who still works at Tyler as model shop manager, said of Tyler "He was an inspiration to all the people around here. He was a good man. He was a real genuine person. You could talk to him and he would understand things.
"Today you don't get that in business," Barr said.
Tyler was born on Jan. 20, 1908 in Three Rivers and moved to Niles from Glen Ellyn, Ill., in 1945.
That year he became vice president and sales manager of Tyler Fixture Corporation, and the next year was named president.
Tyler's work with the firm began in 1928, when he worked as field salesman.
Mr. Tyler is survived by wife Zelda Bolster Tyler, whom he married on June 20, 1975; sons Thomas L. Tyler of Huntington, Ind. and Taylor "Tim" Tyler of Niles; 11 grandchildren and 14 great-grandchildren.
A third son, Robert L. Tyler Jr., died on March 18, 1975.
Tyler's first wife, Dorotha Taylor Tyler, died in Feb. 1966. They were married on June 28, 1928. Tyler's second wife, Mariette Guy Tyler died Jan. 14, 1975. They were married Nov. 11, 1966.
The Rev. Clayton Fairo, minister at First Presbyterian Church in Niles, will officate funeral services.
Services are Wednesday at 11 a.m. at the church, with burial at Silverbrook Cemetery.
Visitation is one hour before services at the church.
Memorial contributions may be made to the foundation of the First Presbyterian Church and the Niles YMCA.
February 24, 2012
Stephen N. Tyler
Dec. 20, 1955-Nov. 15, 1971

Niles Daily Star, Tuesday, November 16, 1971, page 2, col 1, microfilm Niles District Library


NILES--Word has been received of the death of Steven Tyler, 16, son of Mr. and Mrs. Thomas Tyler, 1001 Weesaw Rd.
University of Michigan Hospital officials report that he died there Monday. He had been suffering from leukemia.
Tyler was a junior at Niles High School.
Funeral arrangements are incomplete.

Niles Daily Star, Wednesday, November 17, 1971, page 1, col 7-8, microfilm Niles District Library


NHS students honor leukemia victim
NILES-Stephen N. Tyler was devoted to the improvement of his school--Niles High School--and himself. He worked hard at both, even while leukemia was taking  his life.
The Niles High School junior died from the disease Monday. On Tuesday, his fellow students showed their appreciation for his unselfish efforts by contributing $300 to the Niles-Buchanan YMCA in Tyler's name.
The contributions were a near spontaneous reaction to announcement of his death. He was active and well-liked. He was co-chairman of the auditorium programs, helped develop the new Student Day, was the school newspaper's sports editor and was a member of the French club.
While a student at Ballard Junior High, he was an all-around athlete, lettering in football, basketball and track, each of the three years he was at Ballard.
Last year he received a minor letter in football at Niles senior high and was on the varsity track squad.
He was active in student government and maintained an "A" average academically.  Outside of school, he was a member of the Senior High Youth Fellowship, the Westminster Church Choir, and the First Presbyterian Church.
He battled his fatal disease for 18 months, but lost at 5:30 p.m. Monday at the University of Michigan Hospital in Ann Arbor.
Surviving are his parents, Mr. and Mrs. Thomas L. Tyler, 1001 Weesaw Rd., his grandparents, Mr. and Mrs. Thomas L. Tyler, Sr., of Niles and Mr. and Mrs. Neil B. Meriwether of Galesburg, Ill., a brother, Terence, at home, and a sister, Jennifer, also at home.
Funeral services will be at 10 a.m. Saturday in the First Presbyterian Church of Niles with the Rev. John R. Wyngarden and the Rev. Donald E. Gordon officiating. Burial will be at Silverbrook Cemetery. Friends may call from 7 to 9 p.m. Friday at the Halbritter Funeral Home.
The family request that memorials be made to the Niles-Buchanan YMCA Memorial Fund.