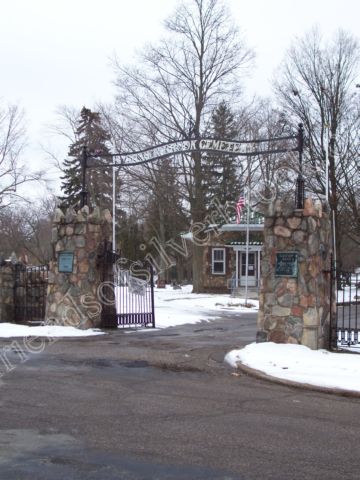 The entrance to Silverbrook Cemetery is located at the corner of Main and Cherry Streets in the city of Niles, Michigan.
Obituaries
We now have over 5,100 obituaries collected about the interred here at Silverbrook Cemetery.
If you have an obituary that you would like to see posted here, please email it to our editor at This email address is being protected from spambots. You need JavaScript enabled to view it. .
Thank you!
---
October 18, 2010
Byron E. Rosenberger
December 27, 1875--October 5, 1960

    Byron E. Rosenberger, 84, 75 Bertrand Road, died 1:30 a.m . Tuesday at a South Bend hospital.  He had been in ill health for two months and in the hospital two days.
    He was a lifetime resident of Niles and a retired painter and paper hanger.  He was born Dec. 27, 1875 in Niles Township. He married Alva Shook, who survives, on Nov. 3, 1950 in Cass County.
    Other survivors include two daughters, Mrs. Bernard Roberts and Mrs. William Fuller, both of Niles; a son, Edgar Rosenberger, Miami, Fla.; a brother, William Rosenberger, Melbourne, Fla.;  six  grandchildren and eight great grandchildren.
    Funeral Services will be held at 2 p.m. Thursday in the Kiger and Halbritter Funeral Home with the Rev. John P. MacLachlan officiating.  Burial will be at Silverbrook Cemetery.

(Source:  Niles Daily Star, Wednesday, October 5, 1960, page 2, col. 4, microfilm Niles District Library)
October 18, 2010
Edgar Alvin Rosenberger
May 28, 1925-December 24, 1990

    Funeral services for Edgar Alvin Rosenberger, 65, 2694 Redfield Rd., Niles, will be at 1 p.m. Friday Hoven Funeral Home by the Rev. Ralph Pletcher of Coulter's Chapel Church of God, Niles.
    Burial will be at Silverbrook Cemetery.
    Mr. Rosenberger died of natural causes Monday at 9:37 p.m. at St. Joseph Medical Center, South Bend.
    He was born May 28, 1925 in Niles Township and had lived his lifetime here.
    A WWII Army veteran, Mr. Rosenberger was a heavy equipment operator.
    On March 18, 1961, he married Shirley L. Carpenter who survives.
    Other survivors include two sisters, Mae Roberts of Niles and Annabelle Fuller of Mishawaka, ind.

(Source:  Niles Daily Star, Wednesday, December 26, 1990, page 2, col. 2-3, microfilm Niles District Library)

October 18, 2010
Vernon Rosenberger
November 18, 1896-May 22, 1927
    FORMER NILES MAN LOSES LIFE CHASING SPEEDING MOTORIST

    Lieutenant Vernon Rosenberger, 36, of South Bend, was killed Sunday evening near Elkhart while in performance of his duties as an Indiana state highway patrolman.  Mr. Rosenberger was a son of John Rosenberger, 916 Regent street and of Mrs. W.J. Mills, 625 North Fifth street, and a native of Niles.
    According to particulars of the accident given by Ralph Logan, Elkhart highway patrolman, who was with Lieut. Rosenberger when the accident occurred, they were pursuing a speeder when another car crowded them off the road near Yellow Creek, about three miles east of Elkhart.  The car rolled over three times before finally stopping.  Lieut. Rosenberger's skull was crushed and he died before reaching the General hospital in Elkhart, the hospital nearest the scene of the accident.  Logan suffered a scalp wound and was severely bruised but not seriously hurt.  He was able to assist a motorist who stopped at the scene in placing his companion in another automobile which rushed him to a hospital.
    Vernon Rosenberger was born in Niles on November 18, 1896.  He attended the Niles public schools and completed his high school education with a business course in a South Bend commercial college.  During the World war although under draft age he enlisted and served overseas with a machine gun squad of the American forces.  In 1922 he was married to Miss Anor Callendar, a daughter of Mr. and Mrs. Fred Callendar who reside south of Niles.  He was then employed in South Bend.  Four years ago he was appointed a highway patrolman, and last fall was promoted to a lieutenancy.  Besides his widow and parents, he is survived by one son, John Jr., age three and one brother, Floyd Rosenberger, 513 South Fifth Street, of Niles; also by his grandfather, Wall [sic] Rosenberger, age 83, who resides south of Niles near Brandywine.
    The young officer was well known in Niles.
    The body was to be brought this afternoon from Elkhart to his home at 383 Tonti avenue in South Bend.  While the funeral plans were not completed this morning it was expected that the services will be held in South Bend on Wednesday morning.
(Source:  Niles Daily Star, Monday May 23, 1927, page 1, col 5, cont. on page 2, col. 5, microfilm Niles District Library)
October 18, 2010
Floyd H. Rosenberger
February 28, 1893-May 3, 1963

    Floyd Harold Rosenberger, 70, of 202 Church St., Hartford, formerly of Niles, died at 4 pm. Friday at his residence.  He had been ill several years.
    Mrs.[sic] Rosenberger, who retired from the Studebaker Corp. in 1949, was born Feb. 28, 1893, in Niles, and lived here until he moved to Hartford in 1949.  His wife Myrna, died Nov. 13, 1948.
    Survivors inlude three daughters, Mrs. Walter Quick Jr., Mrs. Robert Taube and Mrs. Camden Masten, all of Niles; a half-brother, Walter Mills, also of Niles; eight grandchildren, and one great-grandchild.
    Funeral services will be conducted at 2 pm. Monday in the Kiger Funeral Home.  The Rev. John P. MacLachlan, pastor of the First Presbyterian Church, will officiate.  Burial will be in Silverbrook Cemetery.
    Friends are being received at the funeral home.

(Source:  Niles Daily Star, Saturday, May 4, 1963, page 2, col. 1, microfilm Niles District Library)
October 17, 2010
MRS. FLOYD (Myrna) ROSENBERGER
April 26 1895-November 13, 1948

    Funeral services will be held at 1 p.m. Tuesday at the Kiger funeral home for Mrs. Myrna N. Rosenberger, 53, who died suddenly about 8:30 pm. Saturday at her home on South Fifteenth street in Niles Township.
    The Rev. T.M. Greenhoe, pastor of the First Presbyterian church, will officiate at services, and burial will be in Silverbrook cemetery.  Friends are being received at the funeral home.
    Mrs. Rosenberger was  born in Benton Harbor April 26, 1895 and came to Niles . .[illegible] . . . June 18, 1913, in South Bend, Ind., she was married to Floyd Rosenberger, who survives.
    Also surviving are her mother, [illegible] Benton Harbor, three daughters, Mrs. Eileen Quick, Mrs. Audrey Dittmar, and Mrs. Ethelyn Masten, all of Niles; seven grandchildren; four brothers, Leo LaCombe, Kalamazoo; Ralph, Chicago; David and Milton, St. Joseph; and two sisters, Mrs. Phyllis Jewel and Mrs. Thelma Seal, both of Benton Harbor.
    Women of the Moose, of which Mrs. Rosenberger was a member will meet at the funeral home at 12:45  p.m. Tuesday to attend the services.

(Source:  Niles Daily Star, Monday, November 15, 1948, page 2, col. 5, microfilm Niles District Library)