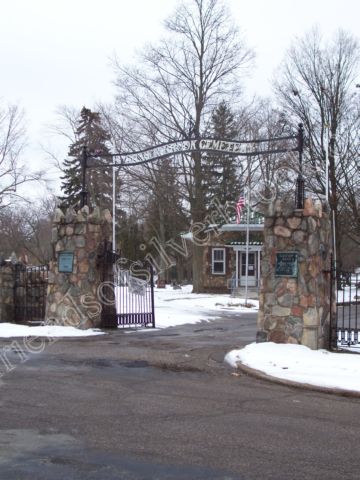 The entrance to Silverbrook Cemetery is located at the corner of Main and Cherry Streets in the city of Niles, Michigan.
Obituaries
We now have over 5,100 obituaries collected about the interred here at Silverbrook Cemetery.
If you have an obituary that you would like to see posted here, please email it to our editor at This email address is being protected from spambots. You need JavaScript enabled to view it. .
Thank you!
---
October 13, 2010
Roseanna (Rosenberger) Garwood
October 13, 1871-September 6, 1931
MRS. STACEY GARWOOD[sic] DIES AFTER OPERATION
Funeral Services at the John Rosenberger Home on Tuesday

    Funeral services for Mrs. Roseanna Garwood, 59, wife of Stacey Garwood, R.R. 2, Niles, will be held in the home of Mr. and Mrs. John H. Rosenberger, 916 Regent street, tomorrow afternoon at 3 o'clock.  The Rev. G. W. Simon, pastor of the Presbyterian church will officiate.  Burial will be made in Silver Brook cemetery. Mrs. Garwood was a sister of Mr. Rosenberger.
    Mrs. Garwood died on Sunday evening at 10 o'clock in Pawating hospital where she had been a patient for two weeks and had had an operation.
    Mrs. Garwood had been a lifelong resident of this community.  She was born in Niles township on Oct. 13, 1871, a daughter of Valentine and Eliza Rosenberger.  The latter died six years ago.  Her father survives her at the age of 87 years and made his home with her. She was married to Mr. Garwood on March 24, 1894 and had continued to reside in the neighborhood in which she was born.
    Besides her father, Mrs. Garwood is survived by her husband and by three brothers who are John H. Rosenberger of Niles, Will A. Rosenberger, of South Bend and Byron E. Rosenberger of Bertrand.
    Mrs. Garwood was a member of the Gleaners order.
(Source: Niles Daily Star, Tuesday, September 8, 1931, page 1, col. 5, microfilm Niles District Library)
October 13, 2010
Richard R. Jordan
December 6, 1910-March 13, 1963


Niles Daily Star, Wednesday, March 13, 1963, page 2, col. 4-5, microfilm Niles District Library
Richard R. Jordan, 52, of 2308 N. Emerald Drive, died at 1:30 a.m. today in the Berrien County Hospital, Berrien Center.
Mr. Jordan was born Dec. 6, 1910, in Waycross, Ga. He came to Niles from Tampa, Fla., 15 years ago and was an employe of Davis Products Co.
Survivors include his widow, Ruby; his father Alfred, Tampa; four daughters, Mrs. Donald Grice, Ruth, Ruby, and Roberta, all of Niles; four sons, Roy, Richard Jr., Ronald and Roger, all of Niles; three sisters, Mrs. Irene Youngman and Mrs. Ruby Cox, both of Tampa, and Mrs. Rosalie Gazallas, Hot Springs, Fla; and five grandchildren.
Funeral Services will be conducted at 2 p.m Friday in the Pifer Funeral Home. Burial will be in Silverbrook Cemetery.
Friends are being received at the funeral home.
Niles Daily Star, Thursday, March 14, 1963, page 2, col. 3, microfilm Niles District Library
ADDITIONAL SURVIVOR
An additional survivor of Richard R. Jordan, 52, of 2306 N. Emerald Drive, who died Wednesday, is a daughter, Miss Rosemary Jordan, at home.
October 8, 2010
L.C. Page
Died October 14, 1933
Driver Held Blameless in Traffic Death

    A coroner's jury this morning exonerated P.C. Stradley, R.R. 6, South Bend, in the death of L.C. Page, 44, Niles, killed instantly at 7 o'clock Saturday evening when he walked into the path of Stradley's car at the intersection of US-31 and Fort St. Joseph avenue.
    Stradley was the only witness at the inquest held at the Rutherford Funeral home by Justice Robert Roebeck, who acted in the capacity of coroner. Stradley said he was driving into Niles at about 40 miles an hour, and had just swung into the north bound inner traffic lane to pass a truck ahead of his car when Page walked into his path.
    CARRIED BY CAR

    The victim was carried 150 feet on the fender of Stradley's car.  Stradley said he did not stop sooner because he feared the victim might be jarred off the fender upon the pavement.  Finding Page dead when the car was stopped, Stradley carried him off the pavement and summoned the police, who in turn summoned Justice Roebeck.  The body was removed to the Rutherford Funeral home.
    Stradley said it was apparent that Page did not see his car approaching and walked past the truck, which held the outer lane, without thought of danger.  He apparently did not see the Stradley car at all before it struck him.  Stradley said he saw the side of  Page's face in the light from the truck headlight, but that Page did not turn his head toward his car. Page was attempting to cross the four lane highway from the east side.
    LOCATE COUSIN

    Authorities were unable to locate any close relatives of the dead man today.
He is known to have been married and divorced and to have one child by his former wife, who is reported to have remarried.  Where she is living now is not known. Charles Strong, a cousin, was located at Terre Haute, Ind., but said he was financially unable to take charge of the burial.
    Page had moved only Friday from 604 North Second street to a house on Fort St. Joseph avenue a short distance east of the super-highway.  He was believed to have been going to the neighborhood grocery on the west side of the highway.
    Members of the coroner's jury were Harold Tomlinson, Leland Hamilton, Glenn West, Charles Heady, Orin Davis and Brayton Yaw.  The jury deliberated only a few minutes before rendering a verdict finding death was due to an unavoidable accident.
(Source:  Niles Daily Star, Monday, Oct. 16, 1933, page 1, col 6, microfilm Niles District Library)
October 7, 2010
Frank E. Cole
July 13, 1874-April 12, 1950

Frank E. Cole, 75

    Frank E. Cole, 75, of 1223 1/2 South Eleventh street, died of a heart attack shortly after 7 p.m.  Wednesday at the Pentacostal[sic] church on Fort street.
    Cole was born July 13, 1874, in Allegany,[sic] Pa., and came here in 1914 from Superior, Wis.  He worked at the Simplicity Pattern company and had retired.
    Surviving are two sons, Robert E. and Frank E., Jr., both of Niles; two daughters, Mrs. John Hunt and Mrs. Gertrude Mose, both of Moline, Ill.; two brothers, George and Claude, both of Niles; three half-brothers, Charles Dash and Ralph Dash, both of Niles and Roy Dash of Frederick, Wis.,; six grandchildren and four great-grandchildren.
    Friends may call at the Pifer funeral home, where the Rev. Charles Johnson, of the Pentacostal church, will conduct funeral services at 2 p.m .Saturday.  Burial will be in Silverbrook cemetery.

(Source: Niles Daily Star, Thursday, April 13, 1950, page 2, col. 3, microfilm Niles District Library)
October 7, 2010
Fred H. Cox, Jr.
December 30, 1949-April 13, 1950

    Fred Hadley Cox, Jr., three-months old son of Mr. and Mrs. Fred Cox, rural route one, died at 5:58 a.m. today in Pawating hospital after an illness of six days.
    Surviving, in addition to the parents, are a sister, Darlene May, and a brother, Duane Delose, both at home.  The child was born Dec. 30, 1949, in Niles.
    Friends may call at the Pifer funeral home where funeral services will be conducted at 11 a.m. Saturday by  the Rev. T.M. Greenhoe. Burial will be in Silverbrook cemetery.

(Source: Niles Daily Star, Thursday, April 13, 1950, page 2, col. 3, microfilm Niles District Library)