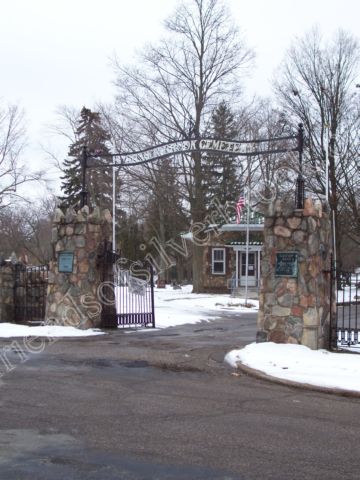 The entrance to Silverbrook Cemetery is located at the corner of Main and Cherry Streets in the city of Niles, Michigan.
Obituaries
We now have over 5,100 obituaries collected about the interred here at Silverbrook Cemetery.
If you have an obituary that you would like to see posted here, please email it to our editor at This email address is being protected from spambots. You need JavaScript enabled to view it..
Thank you!
---
October 21, 2010
William Saathoff
March 29, 1884-October 22, 1954
William Saathoff, Prominent Businessman, Dies Today at 70

    William Saathoff, 70, of 1319 Hickory street, veteran Niles dairy operator and businessman, died at 12:08 a.m. today at Pawating Hospital after a nine-week illness.
    Owner and operator of United Dairies, he has been in the dairy business here since 1925.
    Born March 29, 1884 at Walshville, Ill., he came here from Staunton, Ill. March 29 1925, and purchased the Forburger Dairy.  The next year he purchased the Hunter Co. Dairy and operated them as City Dairy.
    In 1949, he purchased the Niles Creamery and the consolidated firms became the United Dairies.
    He was named a director of the First National Bank when it was re-organized in August, 1933.  Saathoff was one of the founders of the Niles Credit Assn. which was formed in 1927 and has been member of the association's board of directors since that time.
    He is a past president of the Chamber of Commerce and a member of the South Bend Milk Council for many years.
    Saathoff also is a past president of the local Lions Club and member of the St. Joseph Valley Free and Accepted Masons, Lodge No. 4, White Shrine, Masonic Consistory, Eastern Star, Niles-Cass Shrine Club, Grand Rapids Shrine and Niles BPO Elks Lodge.
    He married Lena Highlander in July, 1909.  She died in November, 1949. He married Betty Mallot in July, 1950.  She survives.
    Other survivors are a son Arthur Saathoff, of Niles; two step-daughters, Mrs. Ted Bakeman of Fort Riley, Kan., and Mrs. Kenneth Krichner, Elkhart, Ind.; five grandchildren; three brothers, Walter Saathoff of Niles, Henry Saathoff, Litchfield, Ill. and George Saathoff, Monrovia, Calif., and one sister, Mrs. Everett Lowe of Litchfield, Ill.
    [Illegible]  services at 3 p.m. Monday at the First Baptist Chruch.  Burial will be at Silverbrook Cemetery.  Bearers will be employes of United Dairies.
(Source: Niles Daily Star, Friday, October 22, 1954, page 2, col. 1, microfilm Niles District Library)
October 21, 2010
Daniel Garnhart
January 17, 1880-October 26, 1954

    Daniel Raymond Garnhart, 251 Bond street, died at 7:10 pm. Tuesday in Pawating Hospital. He was been ill since last February.
    Surviving are his wife, Mary; one daughter, Mrs. Harry W. Stover, of Marshall; one grandchild and two great-grandchildren; a brother, Samuel, of Stillman Valley, Ill., and one sister, Miss Katherine Garnhart, of Stillman.
    Garnhart was born on Jan. 17, 1889, in Duart, Pa., and came here from Holcomb, Ill., 30 years ago.
    Friends may call at the Pifer Funeral Home, where services will be held at 2 p.m. Friday, with the Rev. T.M. Greenhoe, Presbyterian pastor, officiating.  Burial will be in Silverbrook Cemetery.

(Source: Niles Daily Star, Wednesday, October 27, 1954, page 2, col. 5, microfilm Niles District Library)
October 21, 2010
Mrs. Anna Malsch
January 15, 1869-October 22, 1954

    Word has been received here of the death of Mrs. Anna Malsch, 85, of 520 1/2 Oak street, Kalamazoo, who died at 4 p.m. Friday at Borgess Hospital after a four-day illness.
    She was born in Germany Jan. 15, 1869 and had lived in this country 68 years.  She was a member of St. Paul's Lutheran Church.
    Survivors are a daughter, Mrs. Augusta MacDonald of Kalamazoo; two sons, Rudolph Malsch, Niles, and Carl Malsch, Dowagiac; four grandchildren and three great-grandchildren.  Her husband, August, died in 1925.
    Prayer services will be held at 10 a.m. Monday at the Trusdell Funeral Home, Kalamazoo. Friends may call at the Kiger Funeral Home after 1 p.m. Monday.  Services will be conducted at 2 p.m.. Tuesday at St. Paul's Lutheran Church by the Rev. Theodore Laesch.  Burial will be at Silverbrook Cemetery.

(Source:  Niles Daily Star, Saturday, October 23, 1954, page 2, col. 5, microfilm Niles District Library)
October 21, 2010
Mrs. Clara Ray
April 9, 1891-October 23, 1954

    Mrs. Clara Ray, 63, of 1332 Eagle street, died at 3:30 p.m. Saturday at the home of her son, Edwin Ray, Kokomo, Ind., following an illness of two years.
    Mrs. Ray was born April 9, 1891, in Michigan City, Ind., and came to Niles in 1919.  She was a member of St. Mary's Catholic Church.
    Surviving besides her son are: her husband, Norman; her stepmother, Mrs. Polly Trunk, Michigan City; a daughter, Mrs. Peter Ciula, South Bend; six grandchildren; one great grandchild, and three brothers, Frank, Carl and Ollie Trunk, all of Michigan City.
    Funeral services will be held at 9 a.m. Tuesday in St. Mary's Catholic Church with the Rev. Cletus Rose, pastor, officiating.  Burial will be in Silverbrook Cemetery. The Rosary will be recited at 7:30 p.m today at the Kiger Funeral Home here, where friends may call.

(Source: Niles Daily Star, Monday, October 25, 1954, page 2, col. 5, microfilm Niles District Library
October 20, 2010
Robert F. Johnson
March 30, 1918-February 11, 1983

Robert F. Johnson, 64, of 5858 Sheridan Rd., Chicago, Ill., died suddenly at 5:15 p.m. Friday at Henrotin Hospital in Chicago.
He was born on March 30, 1918 in Niles and had lived in the area all of his life. He was the Assistant Manager of the North Shore Hilton in Skokie, Ill. and was a Veteran of WW II with the rank of Captain in the US Army. He is survived by a sister, Mrs. Charles (Barbara) Ray of South Bend.
Services will be held at 11 a.m.  Wednesday at the Halbritter Funeral Home with Rev. Mark D. Graham of Wesley United Methodist Church officiating.  Burial will be in Silverbrook Cemetery.  Friends may call from 2-4 and 7-9 p.m. Tuesday at the Halbritter Funeral Home.  Memorials may be given to the Wesley United Methodist Church Memorial Fund.

(Source: Niles Daily Star, Monday, February 14, 1983, page 2, col. 5-6, microfilm Niles District Library)