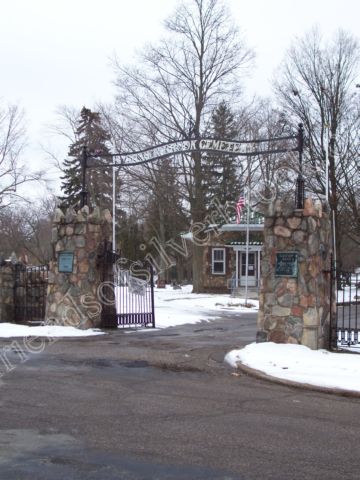 The entrance to Silverbrook Cemetery is located at the corner of Main and Cherry Streets in the city of Niles, Michigan.
Obituaries
We now have over 5,100 obituaries collected about the interred here at Silverbrook Cemetery.
If you have an obituary that you would like to see posted here, please email it to our editor at This email address is being protected from spambots. You need JavaScript enabled to view it. .
Thank you!
---
June 4, 2010
George L. Canfield
Died Jan. 1, 1902
The remains of George L. Canfield, who died in Chicago New Year's day, were brought here this noon on the one o'clock train and taken immediately to Silver Brook cemetery for interment.  He was a nephew of Mrs. F.M. Martin of Benton Harbor and a former resident of Niles.
(Source: Niles Republican, Thurs. Jan. 9, 1902, page 5 col. 1, microfilm Niles District Library)
June 1, 2010
Elizabeth Kaiser
1836-1909
MRS. E. KAISER
Resident of Niles Over 40 Years is No More


    Mrs. Elizabeth Kaiser, widow of the late Bernard Kaiser, passed away last evening at her home 217 Pokagon street, after a prolonged illness from heart disease.
    The deceased was born Dec. 7, 1836.  She has been a resident of Niles over 40 years and was highly respected.  She was the mother of nine children, four of whom survive her as follows: Barney Kaiser and Mrs. John Goldfuss of Niles; Mrs. John Fehmling of Saskatchewan, Can.; and Wm. Kaiser of Elkhart, Ind.  Mrs. Fehmling is in the city at present, having come here on a visit a short time ago.
    The funeral will be held Monday afternoon at 2 o'clock from the home and at 2:30 from St. John's German church, Rev. F. Rahn will officiate.  The remains will be laid to rest at Silver Brook cemetery.
(Source:  Niles Daily Sun, Saturday, January 9, 1909, page 2, col. 2, microfilm Niles District Library)

and

    Mrs. Elizabeth Kaiser died at 9 o'clock last night at the home of her son, Bernard, of Pokagon street. She was 72 years old and death was caused by heart failure.  Mrs. Kaiser had resided in Niles since 1868, and was well known and highly respected.  She is survived by four children, Carl of Elkhart; Mrs. Fehlming of Canada; Mrs. John Goldfuss, who resides in the country near Niles, and Barnard of this place.  The funeral will take place from St.John's German Evangelical church at 2:30 o'clock next Monday afternoon, Rev. F. Rahn officiating.  Interment at Silver Brook cemetery.

(Source:  Niles Daily Star, Saturday, January 9, 1909, page 3, col. 1, microfilm Niles District Library)
June 1, 2010
Charles Kenneth Susan
Aug. 13, 1911-March 9, 1938
KENNETH SUSAN IS DEAD; VICTIM OF 16-FOOT FALL
Star Athlete and Native of NIles Succumbs This morning to Injuries Suffered Monday

    Charles Kenneth Susan, 26, prominent athlete, and a native of Niles, died at 1:20 o'clock this morning in Pawating hospital, the victim of a fractured skull.
    Fatally injured Monday morning when he dropped 16 feet through an elevator shaft in the Niles Brewing company building, Mr. Susan died without regaining consciousness.
    Native of Niles

    Born in Niles, Aug. 13, 1911, he is the son of Mrs. Leota Susan, 712 Maple street.  His father, the late William Susan, died in 1933.
    Mr. Susan attended Niles high school and was a member of the 1930 graduating class.  During his high school career he took an active part in athletics, and was a star tackle on the 1929 conference championship football team.
    After his graduation he was active (continued on page Two) in independent sport circles.  During the last season he was a member of the Troost softball team, and played guard on the Susan Service basketball squad.
Had Wide Acquaintance

    At the time of his injury he was affiliated with the Susan and Sons Sand and Gravel company. Through his connection with the company he had gained a wide acquaintance throughout this section.
    Beside his mother, Mr. Susan leaves his widow, the former Anna Hierman, whom he married on Thanksgiving Day, 1935, in Christ the King church; one brother, Delbert, Niles; and three sisters, Mrs. Edith Sutton, Mrs. Albert Schrumpf, and Mrs. John Burge, all of Niles.
    Requiem high mass will be sung at 9 o'clock Friday morning in St. Mary's Roman Catholic church by the Rev. Fr. Joseph Rochford.  Last Sacraments was administered by Fr. Rochford, Monday night. Burial will be in Silverbrook cemetery.
    Friends may call at the Turner and Pifer funeral home.
(Source: Niles Daily Star, Wednesday, March 9, 1938, page 1, col. 7-8, cont. page 2, col. 1, microfilm Niles District Library)
June 1, 2010
S. D. (Slater) Coleman
Dec. 28, 1866-March 8, 1938
    VETERAN EMPLOYE OF PAPER CO. DIES
S.D. COLEMAN, 71, STRICKEN BY SUDDEN HEART ATTACK MONDAY NIGHT

    S.D. Coleman, Sr., 71, an employe of the French Paper company for the last 41 years, died suddenly at 6 o'clock this morning at his home, 337 South Third street. Death was caused by a heart attack.
    Apparently in good health, Mr. Coleman worked his regular shift Monday night  He became ill after he arrived home.
    Frank G. French, president of the paper company, expressed deep regret today in the passing of the veteran employe.  "As night superintendent, he was most efficient in the discharge of his duties," Mrs. French said, "and was highly regarded by the other employes."
    Mr. Coleman was born in Elkhart, Ind., Dec. 28 1866.  He moved to Niles from Kalamazoo in 1897 to enter the employe of the French Paper company.
    Besides his widow, Mary, whom he married in Kalamazoo in 1895, he leaves two daughters, Mrs. M.E. Collmer, Chicago, and Mrs. V.N. Meeker, Niles; two sons, Slater D. Coleman, Jr., and Paul R. Coleman, Niles; one sister, Mrs. Margaret Bachman, Niles, and two brothers, Joseph Coleman, Grand Rapids, and Fred Coleman, Kalamazoo; also five grandchildren.
    Funeral arrangements are incomplete, but friends may call at the Rutherford funeral home.
(Source: Niles Daily Star, Tues. March 8, 1938, page 2, col. 1, microfilm Niles District Library)
May 31, 2010
Mrs. Archibald (Luella Josephine) Fowler
March 31,1869-March 11,1904

MRS. L.J. FOWLER
Well Known Niles Lady Passed Away Last Night

    Mrs. L.J. Fowler, a well known Niles lady, passed away at about 10 o'clock last night at her home on Grant street, West Niles, aged 42 years.  She is survived by a husband and three children, two girls and one boy.
    The funeral will be held from the home next Monday afternoon at 3:30 o'clock, Rev. Ferguson officiating.  Interment will take place at Silver Brook.
(Source: Niles Daily Star, Saturday, March 12, 1904, page 2, col. 1, microfilm Niles District Library)    
    
and
    Mrs. Archibald Fowler died last evening at her home on Grant street at half past ten, her death being due to cerebral tumor.  The deceased was forty years of age and is survived by her husband and two daughters and a son.
    Mrs. Fowler was a very much respected and admired lady and her death will be mourned by a host of friends.  
    The funeral services which will be conducted by the Rev. A.T. Ferguson, will be held at the house Monday.

(Source: Niles Republican, Thursday, March 17, 1904, page 1 col. 2, reprinted from Niles Daily Sun, Saturday, March 12, 1904, microfilm Niles District Library)