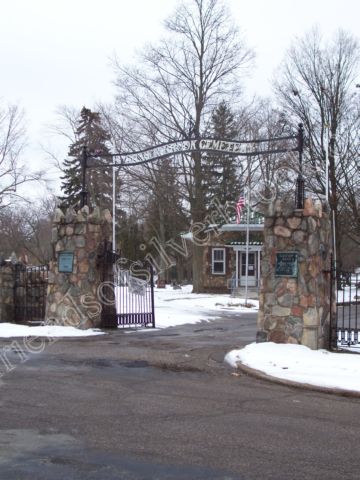 The entrance to Silverbrook Cemetery is located at the corner of Main and Cherry Streets in the city of Niles, Michigan.
Obituaries
We now have over 5,100 obituaries collected about the interred here at Silverbrook Cemetery.
If you have an obituary that you would like to see posted here, please email it to our editor at This email address is being protected from spambots. You need JavaScript enabled to view it. .
Thank you!
---
October 16, 2010
James Vail
May 4, 1902-May 24, 1968

Niles Daily Star, Friday, May 24, 1968, page 2, col. 3, microfilm Niles District Library


James Vail 1344 Oak St. died at 7 a.m. today at Borgess Hospital, Kalamazoo, where he had been a patient for the past three months.
He was born May 4, 1902 in Dowagiac and had lived here since 1923.
He was a member of the Niles Elks Lodge No. 1322 and retired  supervisor at Worthington Co., of Cleveland, Ohio.
In addition to his wife, Mildred, he is survived by a daughter, Mrs. Robert Garst, Grand Rapids, five sisters, Mrs. Ruth Pischke, South Bend, Mrs. Hazel Dewey, Benton Harbor; Mrs. Alice Bundy, Three Rivers; Mrs. Nettie Davis, Mrs. Wava Dixon, both of Dowagiac, and two grandchildren.
Funeral services will be held at 2 p.m. Monday in the Pifer Funeral Home with the Rev. John Wyngarden of the First Presbyterian Church officiating. Burial will be in Silverbrook Cemetery.
Friends may call at the Funeral home after 7 p.m. Saturday.
October 16, 2010
William H. Umholtz 
June 14, 1881-April 7, 1934
Niles Daily Star, Saturday, April 4, 1934, page 1, col. 2 and continued page 2, col. 8, microfilm Niles District Library
WILLIAM H. UMHOLTZ SUCCUMBS SUDDENLY
Suffers Heart Attack While on Operating Table in Physician's Office
William H. Umholtz, 52, partner with his elder brother, Charles, in the Umholtz Brothers Feed store, 319 Front street, died at 11 o'clock this morning on an operating table in the office of Dr. B.D. Giddings.
Death was due to a heart attack, Dr. Giddings said and occurred almost immediately after the physician began administering an anaesthetic for extraction of a number of teeth. The patient was conversing with the physician and an attendant when the attack came.  Death was instantaneous and without a warning sign.
Mr. Umholtz had been in ill health the last six years and had been under continuous treatment for asthma and the heart affliction for many months.  Also he recently had been suffering acutely with bad teeth.  This morning at 9 o'clock he left his farm home two and one-half miles southwest of Niles, going first to the feed store and later to the doctor's office.
He consulted for some time with Dr. Giddings about removal of the teeth, which were causing him intense suffering.  Extraction of a number of the teeth was decided upon and the patient was placed upon the physician's operating table.  Death came almost immediately, breaking off conversation in the middle of a sentence the patient was uttering.
Mr. Umholtz was born June 15, 1881, (continued on page 2) on the Indiana side of the state line on the west side of and near the St. Joseph river. The family home at the time stood upon the state line. He was the son of George Umholtz, now a resident of Niles.  His mother died two years ago.
Mr. Umholtz was married June 14, 1904, to Miss Maude Young, only daughter of Walter D. and Sarah Cameron Young, widely known Bertrand township farmers.  No children were born of the union, but a foster son, Jack Sigwold, has lived with the family many years. They had for some years resided on the Young farm and were preparing to move into Niles.
Surviving besides the widow, foster son, brother, Charles, and the father, are two sisters, Mrs. Edward Steinbauer, 444 South St. Joseph avenue, Niles, and Mrs. Howard Neib, residing in Niles township west of the St. Joseph river.
Mr. Umholtz was a member of the Blue lodge and Royal Arch Masons, Eastern Star, and for 25 years a member of the Presbyterian church in Niles.  The body was taken to the Price and Kiger funeral home.
Funeral arrangements are incomplete.
Niles Daily Star, Tuesday, April 10, 1934, page 2, col. 2, microfilm Niles District Library 
UMHOLTZ FUNERAL HELD
Funeral services for William H. Umholtz, who died Saturday morning, were held at 2 o'clock this afternoon at the Price and Kiger funeral home with the Rev. G.W. Simon officiating. Burial was in Silverbrook cemetery.
October 16, 2010
Leonard H. North
August 15, 1838-February 4, 1925

    Leonard H. North, Old Niles Man, Dies In So. Bend

    Leonard H. North, 87, a resident of Niles for 11 years until last June when he went to South Bend died this morning at 9:50 o'clock at the home of his daughter, Mrs. O.A. Dever, 806 Lincolnway East, in that city.  Mr. North was born in Petersboro, England, August 15, 1838. During his residence in Niles he lived in Vernon Heights until two years ago when on account of failing health he went to the home of Mrs. Dever, who then lived on north Fifth street in Niles.  Besides Mrs. Dever, Mr. North is survived by two daughters and two sons, who are:  Mrs. Julia Flynn, Jack and Leonard North, of Chicago, and Mrs. William Lyons of California.  Two granddaughters, Mrs. Lila Moran Renbarger of South Bend and Mrs. F.B. Hyland of Chicago.
    Funeral services will be held Friday afternoon at 2 o'clock at the Dever home.  Rev. H.T. Scherer, pastor of the Presbyterian church in this city, will officiate.  Burial will take place in Silver Brook cemetery.
(Source: Niles Daily Star, Wednesday, February 4, 1925, page 1, col. 7, microfilm Niles District Library)
October 16, 2010
Carl S. Keck
August 26, 1900-May 4, 1963

    Carl S. Keck, 62, of 2533 S.3rd St., died at 6 a.m. today in his home.  He had been ill two years.
    Mr. Keck, a retired carpenter, was born Aug., 26, 1900, in Lakeville, Ind.  He came to Niles from Florida in 1920.  
    Survivors include a daughter, Mrs. Joyce Kenyon, Long Beach, Cailf.[sic]; his mother, Mrs. Pearl M. Keck, two brothers, E.C. and Lewis, and a sister, Mrs. Ted Schrader, all of Niles; and four grandchildren.
    Funeral services will be conducted at 2 p.m. Tuesday in the Pifer Funeral Home.  The Rev. A.O. Marialke, pastor of the Assembly of God Church, will officiate.  Burial will be in Silverbrook Cemetery.
    Friends will be received at the funeral home beginning Sunday evening.

(Source:  Niles Daily Star, Saturday, May 4, 1963, page 2, col. 1-2, microfilm Niles District Library)
October 16, 2010
S. Richard Harker, Sr.
October 13, 1919-January 27, 1989

    S. Richard Harker, Sr., 69, 1002 Herbert St., Niles, died Friday, Jan. 27, at 6:30 a.m. at Veteran's Administration Hospital in Ann Arbor.  Death followed a lengthy illness.
    A Navy veteran of World War II, Harker was born Oct. 13, 1919, in South Bend, Ind. He was a lifetime resident.
    He is survived by a son, S. Richard Harker Jr. of Mesa, Ariz.; a daughter, Sandra Crawford of Parma; three brothers, Donald, William and Jack of Niles; and four grandchildren.
    Services are scheduled for 11 a.m. Tuesday at Halbritter Funeral Home.  The Rev. Arthur C. Murphy of Trinity United Methodist Church will officiate.  Burial will follow at Silverbrook Cemetery.
    Friends may call Monday from 7-9 p.m. at Halbritter Funeral Home.

(Source: Niles Daily Star, Saturday, January 28, 1989, page 2, col. 2, microfilm Niles District Library)